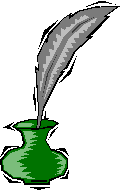 Penemuan
Halaman ini menampilkan penemuan-penemuan manusia yang
bersangkutan dengan ayat-ayat al-Qur'an. Artikel ditulis dalam
bahasa Inggeris. Tajuk-tajuk adalah seperti berikut:
Clay: The Beginning of Humankind
The Identity in the Fingerprint
Isostacy and the Roots of Mountains
Quasars & Gravitational Lens Effect: Light Upon Light
The Seas Not Mingling With One Another
Penemuan selanjut dapat dibaca di www.quran-miracle.com. Terima kasih.
Ruangan baru Senarai Penulis mulai 7.8.11


Halaman ini akan dikemaskini dari semasa ke semasa, dengan izin Allah.
Sila datang lagi. Terima kasih.
---
Halaman Utama Terkini Perpustakaan Artikel Bacaan E-Mail Hiasan Kalimat Pilihan
Keratan Akhbar Soalan Lazim Sudut Pelajar English Articles

Tulis kepada Pengurus Laman